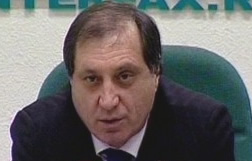 Sukhum/Agency Caucasus – The administration of Abkhazia made its interpretation of the decision by its counterpart in Georgia to change the name of its department that was originally set up to resolve conflicts to read now 'The Ministry of Reunion' and accused Georgia of taking a step toward ending negotiations.
Abkhazia would not be in contact with this newly renamed department of Georgian government, said Sergei Shamba, Foreign Minister of Abkhazia, and added that 's move would leave no further chances for negotiations to continue.
"Even if the administration of assumes compliance with the Moscow Agreement of Cease Fire, the Abkhazian government will refuse to maintain contact with officials of this newly renamed department of the Georgian government," said Shamba.
The Georgian administration appointed as the Minister of Reunion Temur Yakobashvili, Vice President of the Georgian Foundation for Strategic and International Studies. Right after his appointment to his new post, Yakobashvili said in his official statement that the Georgian government should not solely be satisfied with a reclaim of its control over Abkhazian soil but it also should win the support from Abkhazians: " has lost Abkhazia as well as Abkhazians. My government will, I guess, have to take a multidimensional approach. There will be direct contact on my government's part with both Abkhazians and South Ossetians ."
Renaming this department of Georgian government came as a sign of 's President Mikheil Saakashvili's decidedness to keep his election promise to take the over the control of both Abkhazia and South Ossetia in 2008. With the former Georgian official David Bakradze, who was in charge of the renamed department of Georgian government, being appointed now to the post of 's foreign minister, the Georgian government is soon expected to bring up its issue about Abkhazia and South Ossetia for discussion on an international level.
It was in the July of 2006 when negotiations between the two countries came to a halt after the then Georgian administration acted in violation of the cease fire agreement and located troops in Upper Kodor . The Abkhazian government at that time made it a stipulation for the resumption of talks that should withdraw its troops from Upper Kodor . The United Nations' Security Council also released a call on the Georgian administration to disarm the area. The United Nations' Group of Georgia's Friends stepped in to get officials from both countries afterwards to meet on two separate occasions to talk about whether negotiations could be resumed. The first meeting was held in Genova, on February 12 and 13, while the second one in Bonn on June 28 and 29. Also, David Bakradze, a Georgian official in charge of attempts to resolve conflicts, went to Abkhazia and talked with Shamba in October 2007 about the chances of seven kidnapped Abkhazian guards getting released. KU/ÖZ/FT