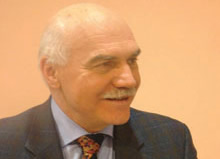 Istanbul – Cihan Demir, Head of the Federation of Caucasian Associations, KAFFED, one businessman of Circassian origin in the Diaspora, has been subject to refusal of entry from Russian customs officers as when he sought entrance into
Sochi
.
Candemir was denied entry into Sochi on September 19 when he wanted to attend there, along with a group of officials from the Foreign Economic Affairs Committee (FEAC), the 6th International Investment Forum in Kuban.
Candemir told the Agency Caucasus that he was refused entry into the country without any specific reasons whatsoever given to him. Candemir had to stay at an airport hotel until September 24 because he had not had a chance to return immediately. He tended not to associate a restriction of this kind on his freedom of travel with celebrations of the 450th anniversary of unification of Caucasus with Russia, which had caused a critical response from the Diaspora. His Federation did not release statements of any kind at all that would possibly lead the Russian administration to impose a restriction on his entry into Sochi, Candemir said and added that this kind of thing happened possibly because of either misconception on the part of Russia or misinformation on the part of his Federation. It would soon be corrected, Candemir said in hopes. Although he did not have any trouble in February when he was travelling through Sochi to Abkhazia, he was kept waiting for some time in Nalchik while he was on his way in April back from a meeting at the Union of World's Circassians, Candemir said and added that personal information about him was possibly misreported then online at the customs. The president further said that he was not given a truthful response although he sought to be granted official reasons from the Russian Consulate why he had been kept waiting for some time in April.
Candemir's statement posted online at the official website of KAFFED read as follows: "There is not a logical reason why I was denied entry into Russia. Anything legally possible will be done to resolve this question. I fully believe that this mistake will be corrected. Relations that started to develop with Russia at levels of both culture and business before I was elected the president of the Federation will be maintained. There is a serious mistake that will be corrected through the most decent efforts of my own, of course in perfect harmony with serenity on the part of my Federation and the society that I represent. Exaggerated discussions at different levels of this problem would obviously not help to resolve it at all. Further news will also be available to the public." (Agency Caucasus)