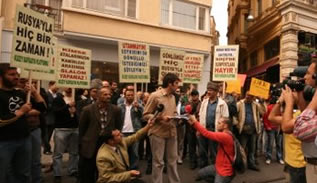 Istanbul – Members of the Circassian Diaspora stood up on Thursday against an official order from Russian President Vladimir Putin to celebrate the 450th anniversary of the so-called voluntary Caucasian unification with .

Apart from simultaneous demonstrations of protest outside Russian Consulates and UN buildings in countries like , and the , a group of Circassians demonstrated disapproval on the part of North Caucasian Platform as they gathered outside the Russian Consulate in Istanbul, , of both the 450th anniversary celebrations and the Sochi 2014 Winter Olympic Games.
The Circassian demonstrators first gathered outside the Istanbul Chamber of Industry (ISO) at 12 pm, and began marching with placards at their hands, some of them reading like, "Don't Forget to Say We Voluntarily Want Genocide," "No to 450th Anniversary Lies," "Nobody Can Slalom amid Graves of Our Ancestors," "Kbaada Valley Still Smells Blood… No to Olympics in Sochi!," "End Russian Occupation of Caucasus," "We Never Felt Affiliated with ," "Never with " and "White Olympic Games Cannot be Played in Blood-red Racecourses."
While marching towards the Russian Consulate, the demonstrators also chanted slogans like, "Caucasian People are not Alone," "Down with Voluntary Unification," "Independent Chechnya, United Caucasus," "Caucasus will Get Free and Independent," "Down with Putin's Fascist Regime" and "Sochi's Mountains are Full of War Graves."
'History Gets Fabricated'
The demonstrators later heard amid anti-Russian slogans such words as:
"Russian President Vladimir Putin officially made it obvious last year that the year 2007 would be celebrated as the 450th anniversary of voluntary Caucasian unification with . With collaborative administrations of Caucasian republics and some non-governmental organizations, both, financed to organize a series of celebrations, the historical facts are actually being rewritten or being fabricated to gain a false notion of history to the Caucasians. These people could not manage to stay permanently away from trouble although they tried hard to do otherwise even when they had to fight relentlessly invaders over the past centuries.
Administrations of both Moscow and Caucasus , each considered then to have an equal status, signed in the 16th century a pact of alliance in their joint war against the common enemy. Marriage between the ruling class families of two different countries was then a sign of improvement in solidarity. A marriage of this kind happened at that time between the Russian tsar and the daughter of a Circassian Lord as well. Although both this pact of alliance remained in temporary effect and the marriage had no permanent consequences at all, we Caucasians are shocked at seeing that the pact of alliance and the marriage are being used after a period of 450 years to justify a wide range of activities to celebrate a so-called voluntary unification of Caucasus with . This kind of behaviour that defies historical facts is part of plans first to make a handful of Caucasians accept Russian values and then to annihilate them as a group of fugitives of both exile and torture by the Russian Tsars. Those plans are aimed at erasing the national memory of Caucasians to replace with Russian values and perceptions and thus to conduct the final stroke at the Caucasian existence. With the historical period of Caucasians ignored as a group of people who were forcibly ejected from their own countries if they luckily managed to survive the torture one and a half century ago, efforts to extract far-fetched meanings from a marriage that happened 450 years ago can illustrate what the Russian administration is really seeking to achieve. Shrunk to a smaller size after it was occupied by the Russian Tsar of the early 19th century, the Circassian region was still spread to a space of 180,000 square kilometres. However, the whole area of three Adygean republics of today amount to only 34,000 square kilometres. The Russian administrations in the past destroyed a large country as they divided it into fragments; the current administration is seeking a way to do away with the living residents of that country while their honour and values get belittled.
is going ahead with work of preparation for the Winter Games to be played in the Valley of Kbaada , where the Caucasians were defeated on May 21, 1864, for good. The Russian administration will cause us much emotional pain when we see groups of people come from across the world to join the Sochi 2014 Olympic Winter Games and slalom over the graveyard of our ancestors.
We strongly object to all this. We condemn both the fabricated 450th anniversary celebrations of voluntary unification of Caucasus with and the Sochi 2014 Olympic Winter Games. We also reprobate all collaborators of in their efforts to degrade Caucasians. Truthful sons and daughters of Caucasus will maintain their fight forever." (Agency Caucasus )